You'll notice a new page on our web site: Tennis4Life.
I was introduced to Dave Stroud, aka "Magic Fingers" as part of Pam's recovery from surgery.  Magic Fingers fixed my shoulder following a serious bike accident in the US a couple of years ago.  As part of my rehab, Dave explained that either as a result of injury and/or my tender age, certain key muscles in the shoulder had shortened and, as a result, couldn't carry any load.  Here was an answer to the loss of control on my ball toss and a loss of 'pop' on my serve. As Howard's playmates can attest, with Dave's intervention, my game is once again "competitive". I'm very happy but I'm not sure about some of the playmates….just kidding!
Dave introduced Howard and I to his colleagues, Gabe and Steve — the Guys from Trident, located in Dee Why. Each is a serious athlete in his own right and each has a specialty. Long story short we got to talking about identifying (and ENHANCING) the specific muscle groups underlying the core tennis skills platform  — the goal: better tennis for longer!  Other people have tried to do this but most efforts fail because of a need to 'translate' between skills and biomechanics.
We have always well understood the skills platform outlined below.  Each tennis stroke involves the three core elements in varying order. For example the serve:  the order is balance, rhythm and watching.  But now, the Guys from Trident can fill in the matching biomechanics to achieve this.  For the serve, the core and glutes are key to maintaining balance as you commence the ball toss. The last diagram tries to capture this in broad brush strokes in context with the skills platform.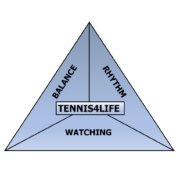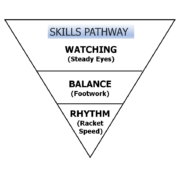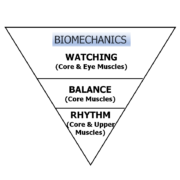 In the weeks to come, we will explore how to enhance your own game at whatever level and tender age you are at.  We will consider how to fix your 'bad side", accommodate your eyes to the faster pace of the ball , improve getting to the ball,  and better manage the "real estate" (court positioning).
And, with the help of the advice from the Guys from Trident, you may not be ready to challenge Federer but, like him, you will be playing better for longer and, hopefully, injury free!
Stay tuned.