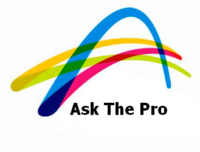 TENNIS WHISPERER NOTES
Latest revision: 1 Aug 2021 Contact Rob
In 1933, Mercer Beasley wrote a book: "How to Play Tennis". Beasley was the coach of the Federer/Nadal equivalents of his day: Vines, Austin, Parker. Beasley began with the following: "No two tennis champions have ever played the game alike. All of them, however, possessed a strong foundation and sound tennis fundamentals. What follows here are the fundamentals of modern tennis, on which you can build your own individual game."
Beasley went on to outline the three (3) greatest tennis tips of all time: 1) Keep Your Eye on the Ball, 2) Get Your Racket Back as Quickly as Possible and 3) Move Your Feet!
While racket technology, court surfaces, and shot selection have continued to evolve, nevertheless the basics have never changed. Our evergreen Whisperer Notes illustrate and reinforce the three (3) greatest tips — enjoy the read. Questions/comments are always welcome. Above all, enjoy the game, it's a great game for all ages.
BALL WATCHING: FOREMOST OF THREE KEY ELEMENTS
Effect of "dominant eye". Most players are cross dominated.
To minimize effect of eye dominance, be at right angles to the direction from which the ball is coming — particularly on service return and volleys.
Move eyes, not head. Moving head loses time for shot preparation.
Focus on ball seams to improve ball watching.
"Soft eyes"! Gaze at ball rather than starting at the ball. Staring caused mistiming because the focal length is triangulated to a single point and the ball may not be in the field of vision.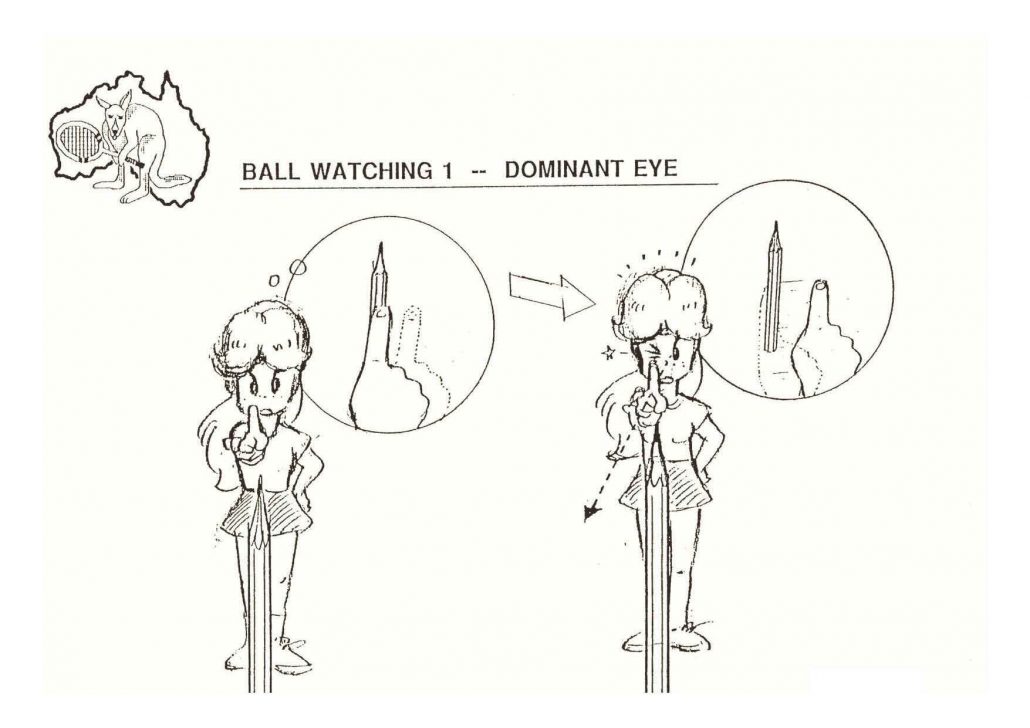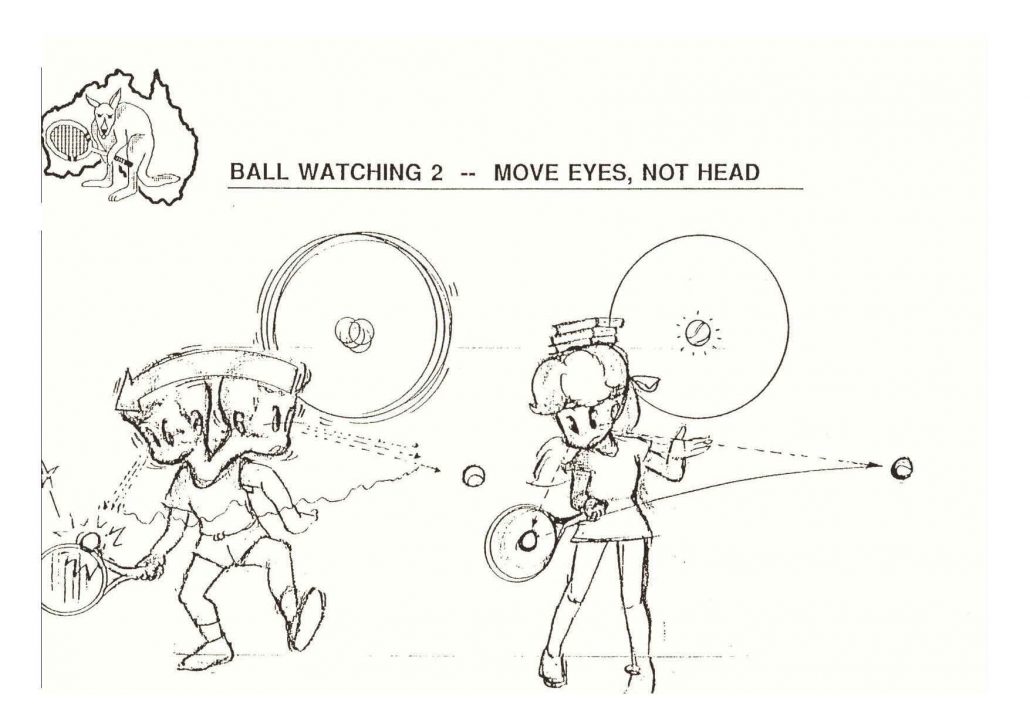 BALANCE: SECOND KEY ELEMENT
Natural ready position
Move racket before foot
Relative ball height in relation to body height — preference is waist high and moving forward to the bounce of the ball.
Good balance ensure full body weight transference: 'heavy ball'.
Balance is the key element for serving — see below.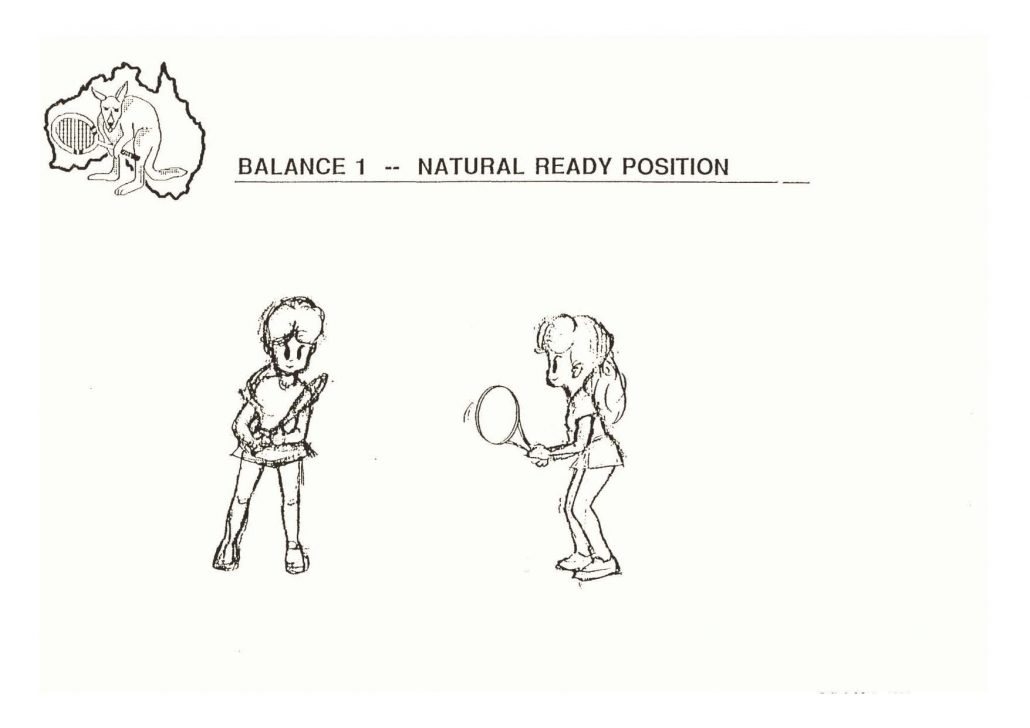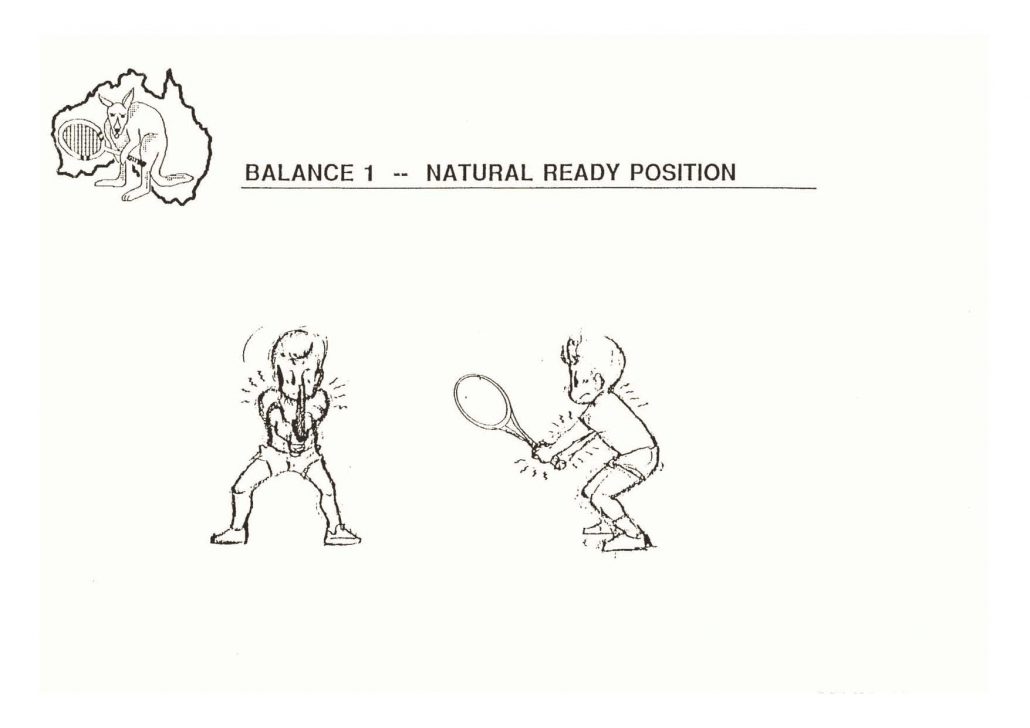 RHYTHM: THIRD KEY ELEMENT
Rhythm ensures body weight transference into a shot.
Effect of racket head speed on:

Ground stroke — (smooth, one speed)
Service — (two speeds)
Volley — (accelerate)

Effect of ball speed:

a faster ball is much easier to hit given the relative angle of the ball bounce.
a slower ball is much harder to hit — timing/early preparation is key given the slower ball has a much more of a vertical bounce.
a high bouncing ball above shoulder height, particularly a lob, is the hardest of all.

Effect of court surface, ball type and playing conditions.
Allied with proper racket stringing, mitigates 'tennis elbow' .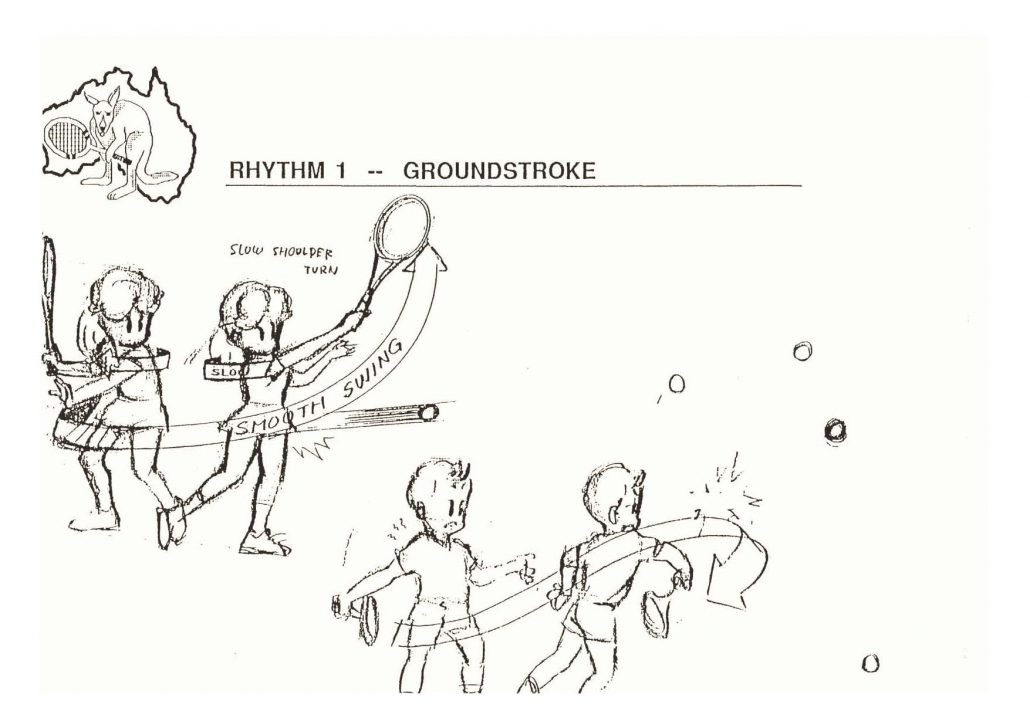 SERVING ESSENTIALS
Most difficult shot.
Requires coordination of entire body to maintain balance and rhythm.
Bounce ball minimum of three (3) times to set serving stance and balance. This is the ONLY time you have control of a point — use the time wisely.
Ball toss in line with right shoulder for right handers (1 o'clock), left shoulder for lefties (11 o'clock)
Two speed motion for serving: a slower 'school zone' for a consistent ball toss, faster motion for the actual hit to accommodate higher or lower toss.
Soft grip similar to throwing a ball.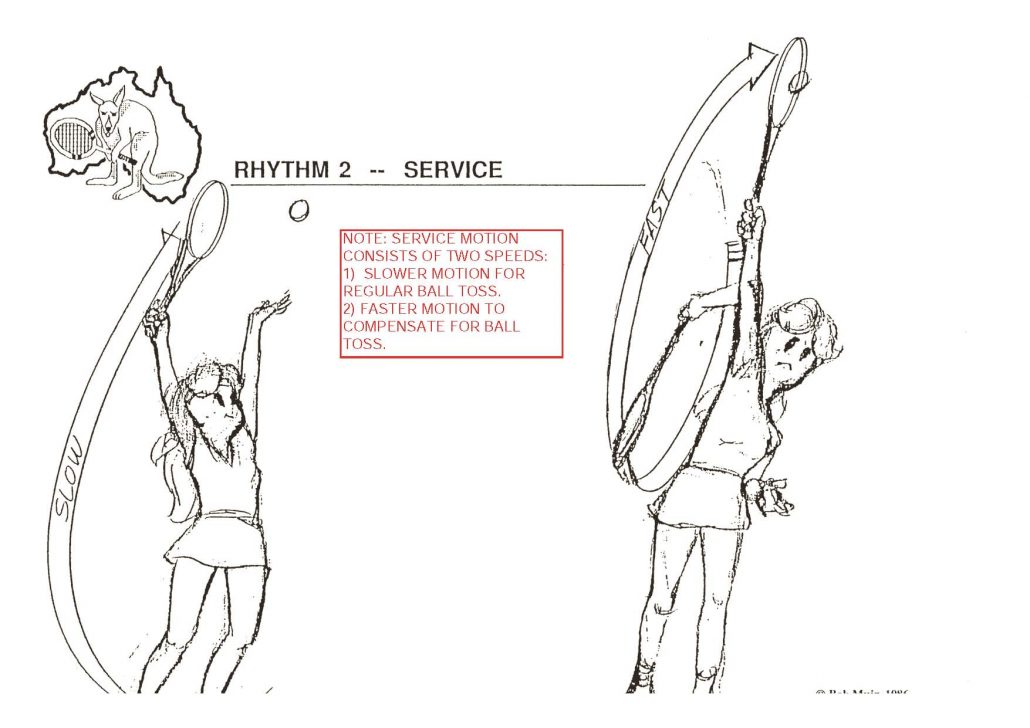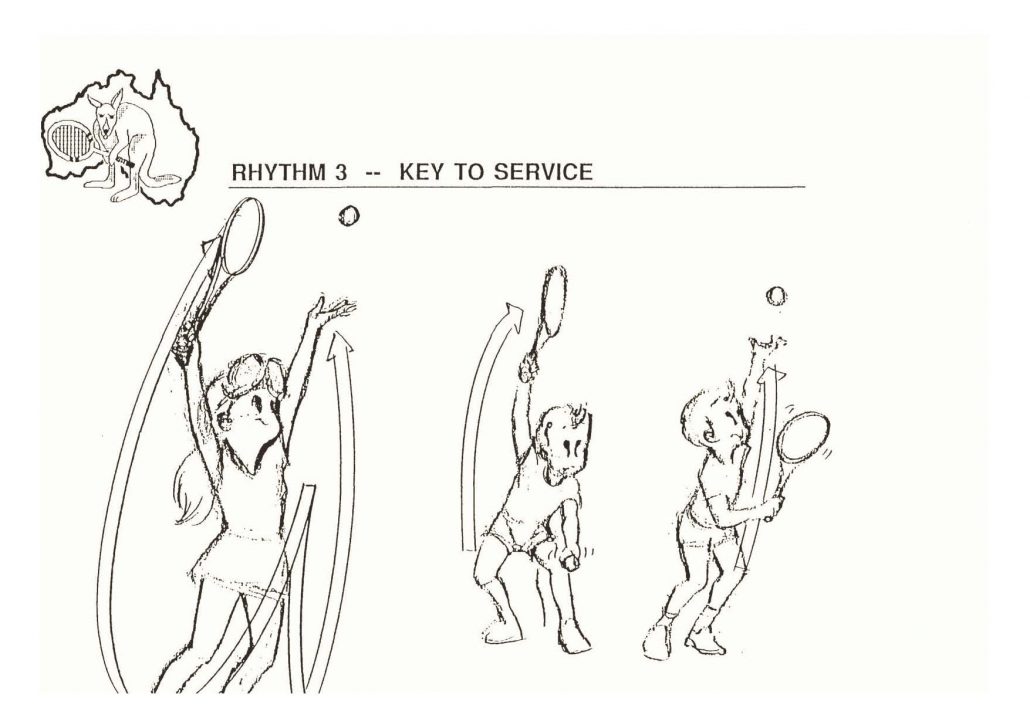 VOLLEY ESSENTIALS
Most feared shot — frighten of getting hit by a faster ball particularly when you cannot accommodate your eyes/vision fast enough.
Effect of changing your vision from parallel to triangular focus as ball travels towards the player.
Keep ball out in front — in field of vision
Move your eyes to watch the ball — moving your head loses time to recover for next shot and takes your eyes out of the game.
Turn shoulder to volley, not whole body.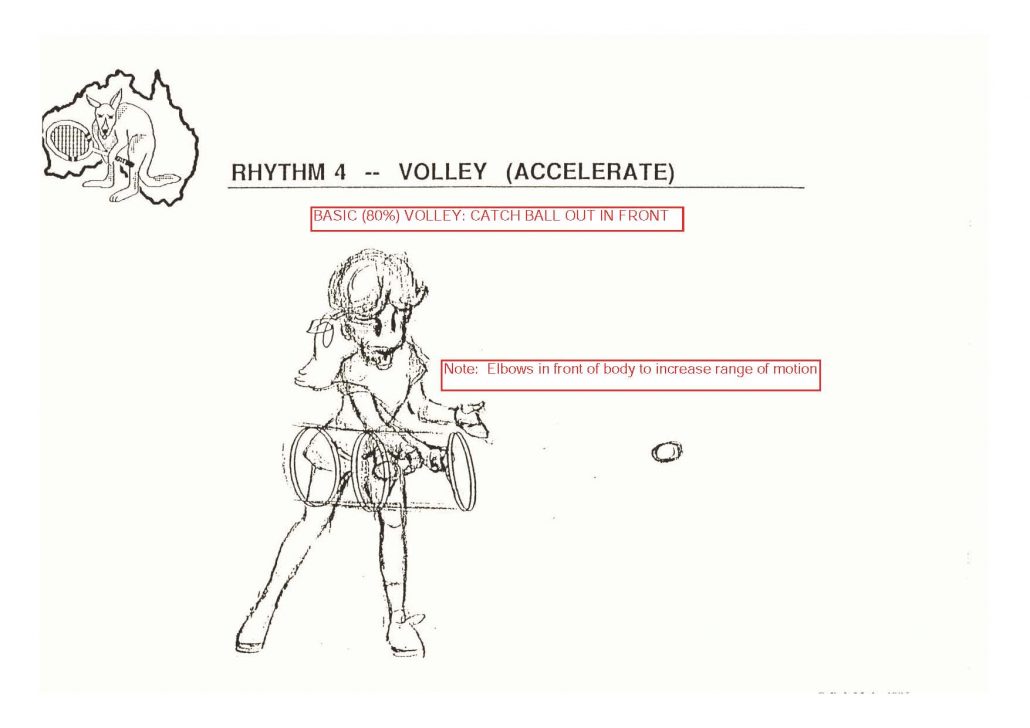 STRATEGY ESSENTIALS
SECRET OF THE GAME: The player who hits the ball over the net and into the court the last time, wins the point.
Effect of net height on:

baseline groundstrokes
approach shots
net groundstrokes

Strategy 101: Red/green zones — when to 'pull trigger'!
Size is an advantage since a taller player can 'finish the ball' from closer to the baseline: 'Ghost Line"
Basic groundstroke is a cross court stroke to take advantage of lower net height in the centre — irrespective of singles or doubles play.
Breathing strategy to cope with/control your emotions.
Challenge is to determine your own type of game.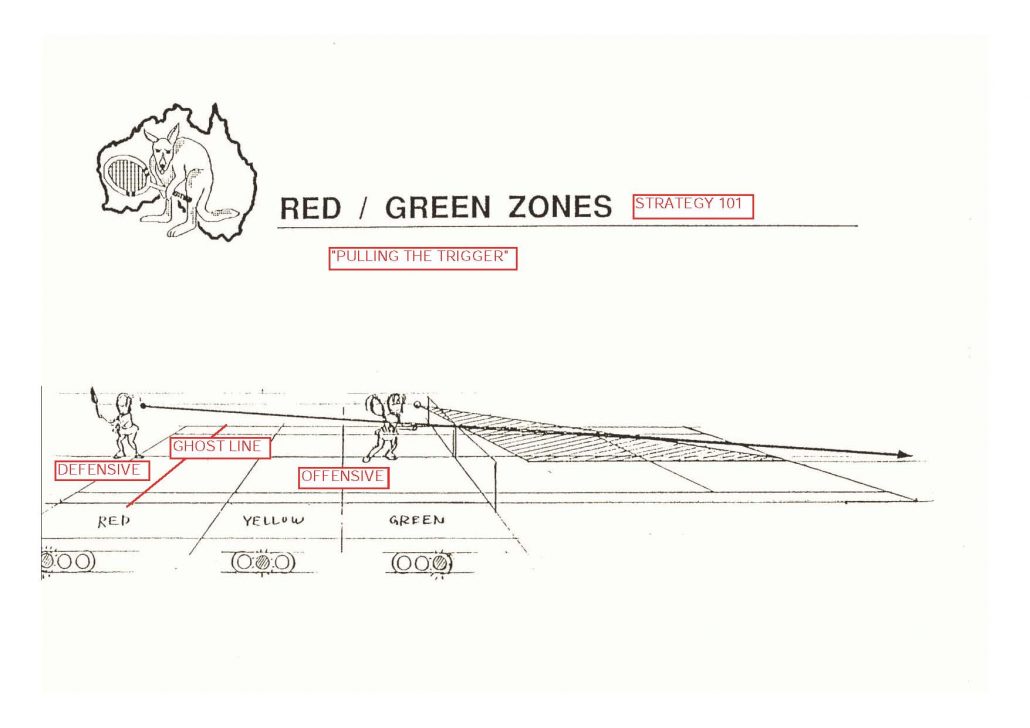 (C) MUIR TENNIS ACADEMY 2010-2021