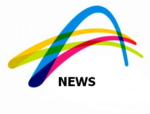 The resurgence of Rafael Nadal and Roger Federer this season is all about turning a liability into an asset.
If tennis were investing, these two would be the master traders of 2017, the best on tour at taking a losing stock and turning it into a winning one.
The stock in focus is second serves.
Second serves are generally underrated, underperforming and under the radar when it comes to the discussion of tennis greats. Second serves for most of the tennis market are a speculative stock, but not for Nadal and Federer.
Nadal, who recently returned to the No. 1 ranking, and Federer, who is ranked third, have hoarded the Grand Slam singles titles this year and are among the favorites at the United States Open, which begins on Monday. They have never played each other in Flushing Meadows.
There is only one serve, return or "under pressure" statistic on the ATP Tour in which Nadal and Federer are ranked one-two this season: second-serve points won.
Nadal has won an impressive 61 percent of his second-serve points this season to lead the tour. Federer is right behind, having won 60 percent. Each player's career average is 57 percent, and Nadal in particular has improved from last season, when he won 54 percent of his second-serve points.
They double-down on making a derivative of their game a peak performer. The rest of the tour tend to struggle mightily.
https://www.manlylawn.com.au/wp-content/uploads/2017/08/POST-TennisNews-e1525932928279.png
114
150
Rob Muir
https://www.manlylawn.com.au/wp-content/uploads/2017/01/manly-lawn-tennis-club-logo.png
Rob Muir
2017-08-27 13:38:39
2017-08-27 17:54:59
The Key to the Resurgence of Nadal and Federer?